Descripción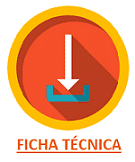 Power supply 24v 2A + 0.8 APM702C
The PM702C is a full-featured EN54-4-approved power supply, ideal for use in fire system applications. It features intelligent battery charging, monitoring and signaling. The 27.6 VDC regulated output will generate up to 2 A in the charge and provide up to 0.8 A to charge the backup batteries. The charging output features full electronic short-circuit protection in both network battery operation and standby mode. Maximum battery life is ensured through continuous active battery monitoring and 3 different charge levels: volume (fast charging), absorption and temperature-compensated flotation. Deep discharge protection prevents premature battery failure when operating from standby mode for extended periods of time. Inside the unit, a diagnostic LED with various flashing patterns ensures accurate diagnosis when the unit fails.
How to install 24v 2A + 0.8 APM702C Power Supply
A PM702C power supply is supplied in a stand-alone wall mount box that can also accommodate 17 Ah batteries (not included). The battery charging circuit is energized only when a battery is properly connected and the battery voltage is greater than 14 V. A green LED and a red LED that is visible when the box is closed indicates network presence and failures. A red diagnostic LED inside the unit distinguishes between several faults by various flicker patterns. A potential-free contact is used to report faults due to output failures, battery failures, charger failures, or internal failures. A second potential-free contact signals network loss. The unit starts automatically withbattery life, i.e. it connects the battery and the unit works. The power grid does not need to be present and is very useful for commissioning in newly built installations.
Power supply features 24v 2A + 0.8 APM702C
Approved according to EN54-4 and VdS certificate
Self-contained box that houses 17 Ah batteries
Electronic overload protection
Deep battery discharge protection
Network LED indicators and failure
Fault diagnostic LEDs, inside the unit
2 x Relay outputs: network failure and failure
Temperature-compensated load
Wide input voltage range
Battery-powered start
Physical dimensions
400 x 420 x 80 mm
Net weight
6.2 kg (without batteries)
Voltage
26-28 VDC with network

18-26 VDC standby

Charging current
0 – 2 A
Wave
100 mV max.
Overload
Electronic shutdown at 4.5 A
Fault relay
N/C contacts from 100 mA to 60 VDC
Network failure relay
N/C contacts from 100 mA to 60 VDC
Battery capacity (in the housing)
2 x 17Ah series connected
Battery charging
Constant current 0.8 A charge at 80% at 24 H

100% floating load in 48 hours

Deep discharge protection
Disconnecting the battery to 21 V
Low battery threshold
Nominal 23 V
On the front of the unit
Green LED – power

Red LED – breakdown

Inside the unit
Red LED – fault diagnosis