Descripción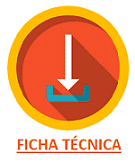 FD705RVDS linear infrared smoke detector
The FD705RVDS barrier consists of an infrared emitter and receiver, within the same equipment. The infrared signal is reflected by a prism located on the wall opposite that of the equipment, which analyzes this signal for smoke. It is specially designed for places where point detection placement is inappropriate or not possible. The unit has two voltage-free relay outputs that allow you to send fire and fault signals to any fire plant. It has a degreerange ranging from 5 to 50 linear meters ofrange.
How to install fd705RVDS infrared linear smoke detector?
Wiring is reduced to maximum,as the emitter and receiver are on the same equipment. the FD705RVDS barrier is very easy to align by checking its LED indicators. The "Prism Targeting" and "Aligment Mode" modes ensure optimal device adjustment. Mechanical alignment is done using two adjustment wheels located on both sides of the device, which allow us to move the barrier on its two axes. Its low current consumption allows you to connect multiple units to the same power supply without compromising the autonomy of the system.
How much does the FD705RVDS infrared linear smoke detector reduce false alarms?
The barrier alarm thresholds are 25, 35 and 50%. These are selectable depending on the environmental conditions under which the detector is installed. If the infrared receiver of the barrier progressively reduces thesignal level below the selected threshold and this situation is maintained for 10 seconds, the barrier will activate the Alarm relay. The barrier allows operation with or without alarm interlocking. However, if the infrared signal level is rapidly reduced by more than 90% for 10 seconds, the barrier will activate the fault relay. This last situation can occur for several reasons, such as placing objects in front of the device, misalignment of the detector, transmitter failure, etc. The barrier also incorporates an automatic gain control, which allows it to absorb and correct the loss of infrared signal due to environmental dirt deposited in the receiver or prism. The FD705RVDS barrier can be easily testedand using the supplied test template.
General features of the FD705RVDS infrared linear smoke detector
Coverage up to 1500m2 per unit
Range from 5 to 50 m linear
Up to 25 roof height
Power supply from 10 to 30Vdc
Low current consumption
Manual or automatic reset
3 selectable alarm levels
Auto-test and automatic gain control
Automatic discrimination between alarms and breakdowns
Operation through reflective prism
Horizontal and vertical mounting
Easy wiring and adjustment
Microprocessor controlled
Approved under EN54
Certified under VDS and UL
Operating voltage
10.2 to 30 VDC
Current consumption
<4 mA (inactive)
<15 mA (alarm)
Range
5 to 50 m
Side detection
7.5 meters
Optical wavelength
880 nm
Physical dimensions
130 x 210 x 120 mm (width x height x depth)
Color
Grey-black
material
Flame retardant ABS
Operating temperature
-10 up to + 55oC
Environment
-10 to +70oC
Relative humidity
0 to 95% non-condensing
Environment
Inside
IP rating
Ip50
Certification
EN54-12