Descripción
https://www.serior.com/central-algoritmica-de-1-a-8-bucles-lyonrm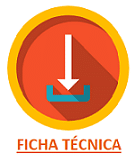 COFEM LYON REMOTE 1- to 8-loop fire algorithmic plant
Algorithmic-addressable power plant LYONRM ceritified according to EN 54 part 2 and part 4 according to the latest directives, successfully passing the most severe tests of environmental conditions, electrical noises driven, electromagnetic disturbances, vibrations, etc.
The algorithmic-addressable Detection System is capable of detecting elements that cause alarm or malfunction (sensor or pushbutton), and allows the configuration of detection parameters and adaptation to environmental conditions and the degree of dirt of the sensor. Self-identifying elements, installed without the need for prior manual encoding, facilitating assembly and subsequent modifications of the installation.
The Cofem Remote system allows you to connect to them from anywhere, allowing you to act on the configuration, visualize maintenance data and have online management.
Models available
LYONRM01
LYONRM02
LYONRM03
LYONRM04
LYONRM05
LYONRM06
LYONRM07
LYONRM08
They incorporate remote connection module.
Features
Central base configurable up to 9 loops (199 points per loop).
Expandable up to 20 loops, adapting an additional chest.
All points in the loops are monitored, except the KABY loop isolator.
Capacity up to 199 relays configurable per control unit.
Allows the programming of 99 zones per central
History that stores up to 4095 events with date and time.
Programmable delayed siren output from 0 to 10 minutes monitored identified as S1.
Alarm output as un supervised voltage-free relay, identified as S2.
Fault output, delayed and supervised, identified as S3.
Allows you to connect addressable sirens in the loop.
Evacuation pushbutton.
4-line, 40-character backlit LCD display
It incorporates several languages by default (Spanish, English, French, Portuguese, etc).
Configurable and manageable using PC software, I-Link.
Connects an external keyboard (PC-PS2 standard).
Access to the panel keyboard using a numeric code.
Allows the connection of up to 15 repeaters and/or 15 networked power plants.
MODBUS on demand.
Contact ID on demand.
Cofem Remote.
Measurements: 424 x 330 x 140 mm.
Certified by AENOR in accordance with EN 54 Part 2 and EN 54 Part 4, and CE marked according to European Construction Products Regulation (EU) No. 305/2011.
Technical specifications
| | |
| --- | --- |
| Supply voltage | 110/230 Vac 50/60Hz |
| Output voltage | Nominal 21V |
| Maximum consumption | 155 VA to 230 VAC |
| Batteries | 2 x 12V 7Ah SLA |
| Power fuse | 8 A |
| Battery charger | 500 mA 27V/DC 20oC |
| Elements per loop | 199 |
| Power supply | 5 A |
| Fuse S3 | 1 A |
| IP protection | IP 30 |
| Maximum current per loop | 500 mA / 26 to 32V/DC |
| Keyboard connector | PS2 minidin 6 |
| Communications port | USB 2.0/1.1 Type B or RS232 (depending on version) |
| Environmental conditions | -10oC+50oC%-95% RH |
| Dimensions | 424 x 330 x 140 mm |
| Weight (without batteries) | 7.4 Kg |
| Regulations | EN 54 parts 2 and 4 |
| Fuse S1 | 2 A |
| Fuse output 30V | 2 A |